Why Trade with TC2000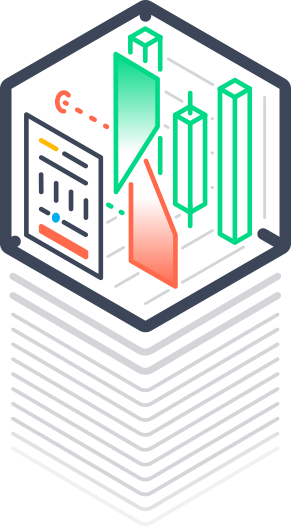 Transparent, fair pricing, no hidden fees

All orders are routed through IB SmartRoutingSM

Highly competitive margin rates as low as 7.83%

Manage orders & positions inside TC2000 Software

Quickly adjust limit & stop orders by sliding around chart

Attach orders to trendlines

Trade logs, active positions and pending orders work like TC2000 watchlists

Attempt to get a better price with "step-to-market" orders

Use profit/loss zones to help choose multi-leg option strategies

Trade directly from both stock & option charts

Large volume & block orders take advantage of hidden institutional order flow

Flat-rate $25 for stock trades over 5000 shares

50 cents per option contract over 25th contract per trade

Responsive, knowledgeable team of reps to help you
IB SmartRoutingSM for TC2000 Brokerage Clients
IB SmartRoutingSM helps support best execution by searching for the best available prices for stocks, options and combinations across exchanges and dark pools. SmartRouting continuously evaluates changing market conditions and dynamically re-routes all or part of your order, seeking immediate electronic execution.
What Other Online Brokers Conveniently Leave Out
Our results are even more impressive when you consider that other industry-touted statistics don't give you the whole picture. They only discuss the percentage of orders that saw price improvement, and conveniently ignore the percentage of their orders that were dis-improved or had no improvement. In contrast, our statistics are netted, showing the true bottom-line price improvement including all improved, dis-improved and unimproved amounts.
Unlike smart routers from other online brokers, IB SmartRoutingSM never routes and forgets about your order. It continuously evaluates fast changing market conditions and dynamically re-routes all or parts of your order seeking to achieve optimal execution.

IB SmartRoutingSM represents each leg of a spread order independently and submits each leg at the best possible venue.

IB SmartRouting AutorecoverySM re-routes your US options order in the case of an exchange malfunction, with TCB undertaking the risk of double executions.

To help provide price improvement on large volume and block orders and take advantage of hidden institutional order flows that may not be available at exchanges, IB includes eight dark pools in its SmartRouting logic.
Read more about IB SmartRoutingSM from our IBKR clearing firm.
TC2000 Brokerage can only accept applicants who reside in the United States or reside in a place subject to the jurisdiction of the United States.
---