TC2000 Version 18 for Windows and the browser-based Version 12.5 for any device
One of the big TC2000 benefits is their operating system, an independent version that can be run on any device with a Microsoft Internet Explorer installed. This is possible with Microsoft Silverlight plugin for the Internet Explorer.
If you prefer to use a fixed installation, you can do this on any Microsoft Windows Computer. Please be aware that you cannot use Firefox or Google Chrome for this charting software. Furthermore, Mac users will need to use Parallels Desktop for Mac.
The TC2000 Version 18 Windows Client can be downloaded here:
https://www.tc2000.com/download/
The Browser Based version 12.5 can be started here:
http://www.tc2000.com/version-12-5
TC2000 gives both versions separate numbers. However, there is no need to be worried. Both versions run fast and accurate with similar functionalities.
Having said that, I would like to tell you about some exciting benefits.
TC2000's user interface and features
The Technical Analysis of Stock & Commodities magazine asked their readers to vote for their "favorite standalone analytical software for $500 and less" during the 2017 Readers' Choice Awards. TC2000 won again in this category. One of the main benefits is the nice and easy to understand UI.
The software comes with a familiar user interface. You can arrange every available segment, such as:
Charts
Watchlists
Market Scanners
Notes & News
Reports
Alerts
Market Data (incl. Options Chains)
Trade Executions (live & simulated trading)
Just choose the segment of your choice:

TC2000 Navigation
Now hit the cross symbol in the top right corner. For example, when you open a new chart: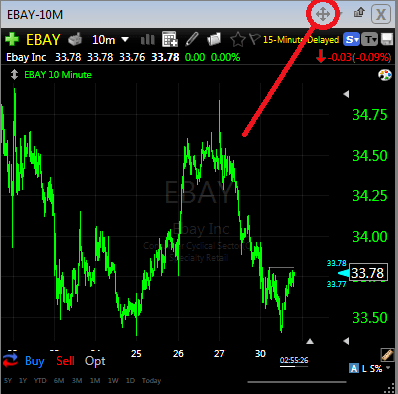 TC2000 chart management
Now choose where the new element should be placed. This can be above, below or beside an existing element. It might take 1 or 2 minutes before you understand the whole process but then it is finished within seconds.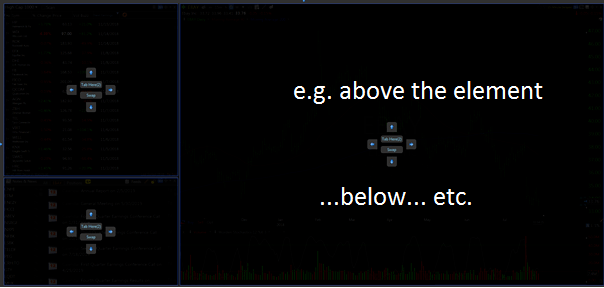 TC2000 drag and drop elements
Organize elements using tabs
One of the most practical features is the possibility to work with tabs, just like in a regular internet browser.
These tabs can be fed with completely different markets, such as one tab showing stocks, another for options, or for different time frames, or watchlist only scans, etc.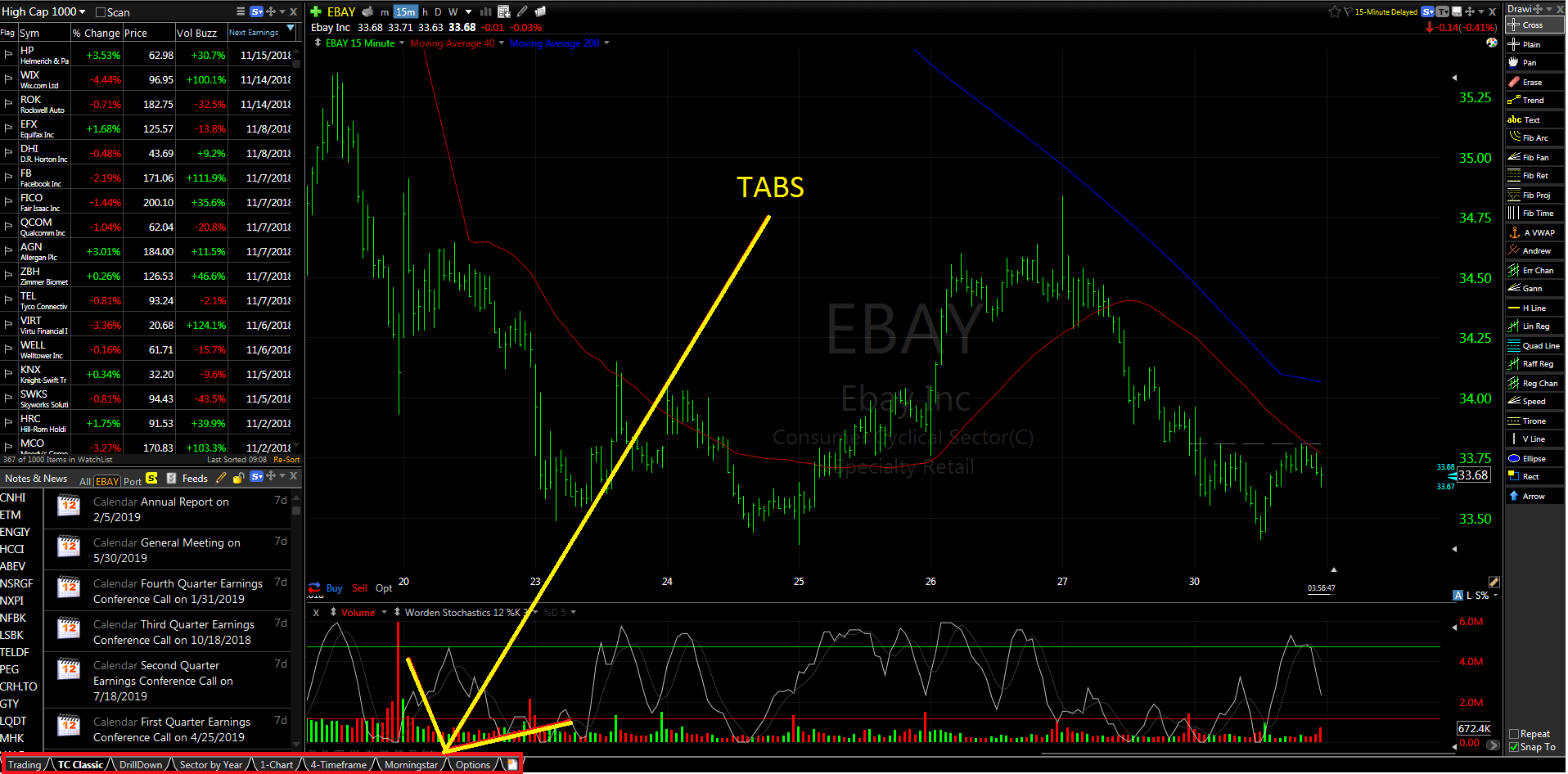 TC2000 tabs
This gives a precise overview of different markets without producing an overload of charts on one screen.
When it comes to overviewing markets on a single screen, many software programs, as well as many traders, struggle to keep the interface clean. Different tabs for sorting all necessary information is a great idea and has become market standard for a good reason.
For beginner traders, a suitable starting point is to use one of the default templates, which can then be customized step by step.
TC2000 charting types
TC2000 guides users through the different steps of setting up the charts as needed. It only needs a bit of time until all the features are clearly understood. TC2000 has done their homework here, building up the software absolutely logically.
TC2000 includes the basic charting types such as OLHC Bars, CandleSticks and Line Charts as well as HLC Bars, Bar Charts, Area charts and even Heiken-Ashi charting are available.
Make use of the Chart Properties / Plot Style options to change it accordingly.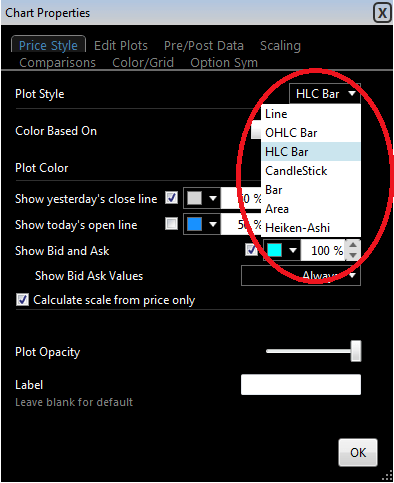 TC2000 chart types
You can edit plots, set different colors, adjust the scaling, choose the time frame and much more by simply following the sub menus within the settings window.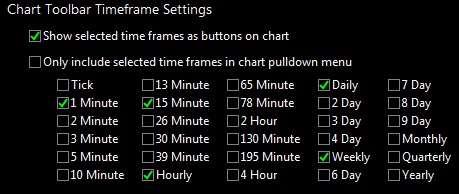 TC2000 chart types
What drawing tools are available at TC2000 gold?
Besides the standard drawing tools (Fibonacci, VWAP, Gann), other drawing tools are available within TC2000 gold. No useless features, no innovative and flashy distractions. Every drawing tool you would need for accomplishing a Technical Analysis is available.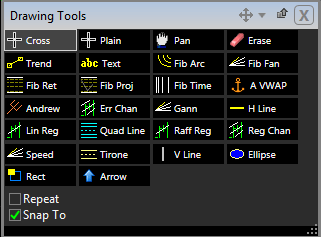 TC2000 drawing tools
The TC2000 watchlists
Sorting the financial markets of your choice is easy with TC2000. Use one of the most commonly used watchlists from the Quick Lists or one of the pre-configured watchlists. Of course, you can add favorable instruments like stocks to a watch list or you can create a watchlist from scratch.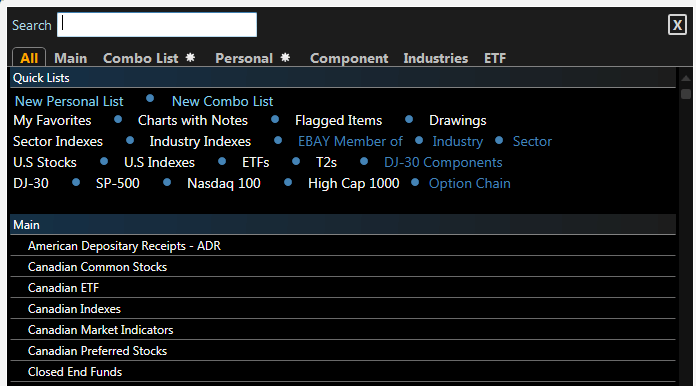 TC2000 watchlists
Once you have set up your watchlist, you can add a plethora of different columns to sort and reorganize the TC2000 watchlist. Columns can be your own formulas or existing variables like trading indicators, formulas, P&L tracking, options and much more.
TC2000 EasyScan®
As the name suggests, EasyScan® is a stock screener / stock scanner where you can scan the market with one of the pre-configured scans like "Gap up with momentum", "Bounce after pullback" or RSI crossing up through 30.
Alternatively, custom scans can be created. To do so, follow the instructions:


TC2000 condition settings
From here you can write your own formulas, use fundamentals, indicators or condition sets, alone or in combination.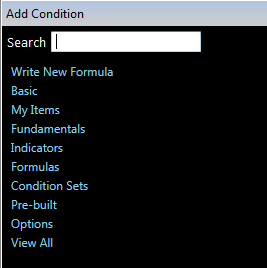 TC2000 conditions list
Please be aware that using the EasyScan® requires more knowledgeable understanding of the financial markets. Writing a formula is not that easy. That's why for day trading beginners the pre-configured EasyScan® windows are a great starting point.
Notes, News, Reports, Alerts, and the library
Besides the charts, the watchlist, and EasyScan® stock screening, there are other great features available. Just give it a try yourself. They are self-explanatory, from TC2000 notes, news, reports and alerts, up to the library and the trade management windows.
TC2000 plans and pricing
Currently there are three different versions available.
The basic, called 'Silver', is priced at $ 9.99 a month and the premium, 'Platinum' version is $ 89.98 a month. Finally, the 'Gold' version, priced at $ 29.99 a month, proves to be the most valued for a majority of traders, and therefore the preferred purchase.
Since there is a considerable difference in pricing between the Platinum, Silver, and Gold versions, users should have a closer look at all the features before subscribing. For all those who don't consider trading at least a part-time business, the Gold version should do nicely.
I have tested the Gold version in detail with all its features.
Traders should be aware that real time market data subscription costs have to be paid separately. Here is the current pricing: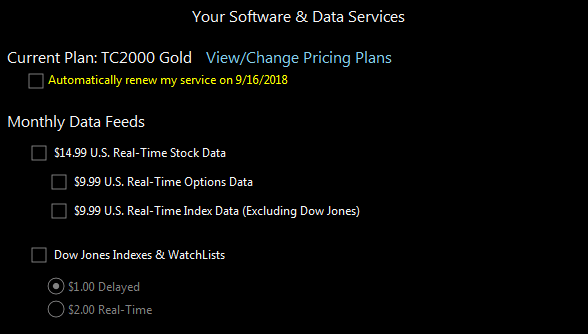 TC2000 conditions list
TC2000 promo code, demo, free trial
As of today, there is no promo code / discount, free demo or free trial available. However, TC2000 has its own YouTube channel where they show the tool in detail.
It is worth watching the videos (there are 36 right now) but it's more effective to buy the TC2000 silver version for only $9.99 per month and practice using it. You simply can't go wrong with the price.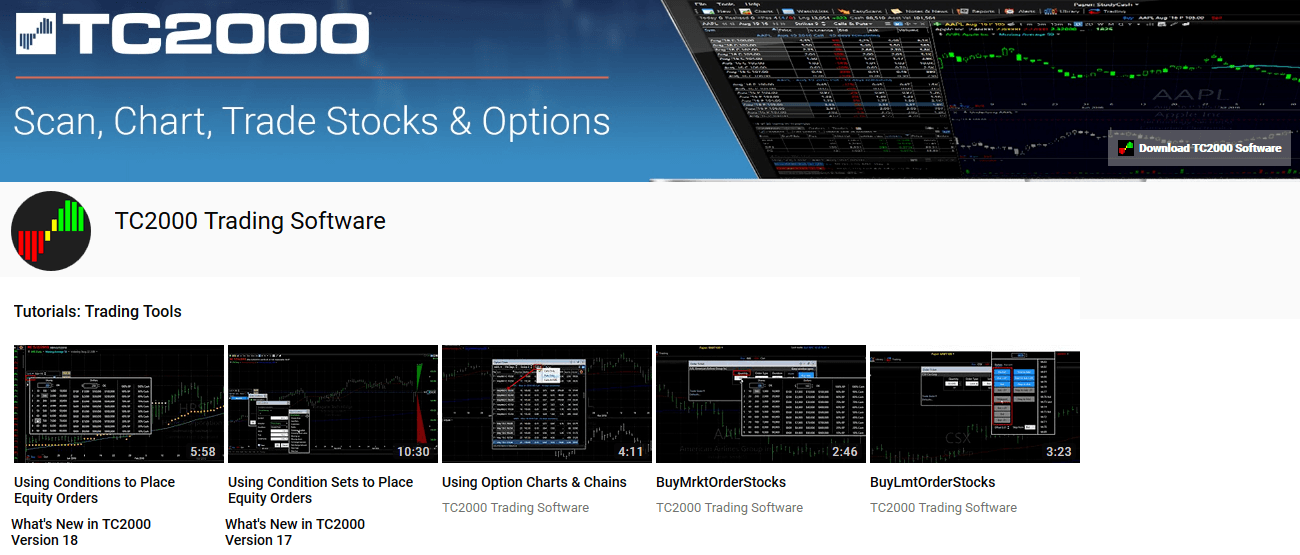 TC2000 YouTube Channel
TC2000 as a great alternative compared to a live trading account for trading beginners
Yes, I know. You want to trade. You want to make money. But like skydiving, TC2000 is not for everyone and trading is not for everyone. So, your main intent should not be to risk the hard-earned money you have in your account.
Paper trading is a great option for day trading beginners and investors at the beginning of their career. As mentioned within my Warrior Trading Review, if you are not making any money on paper, you will probably never do so with a real money account.
And as I described in the Warrior Trading Review, the Warrior Trading paper trading module does not have the best possible pricing parameters. But TC2000 does.
Practice, practice, practice
All the trading features TC2000 provides can be used with play money. Practice accounts can be set up for free and as often you want.
Okay, that's enough about the features. If you want to find out more details about the features, please have a look at TC2000's website. They list all the details in a clean, arranged features table.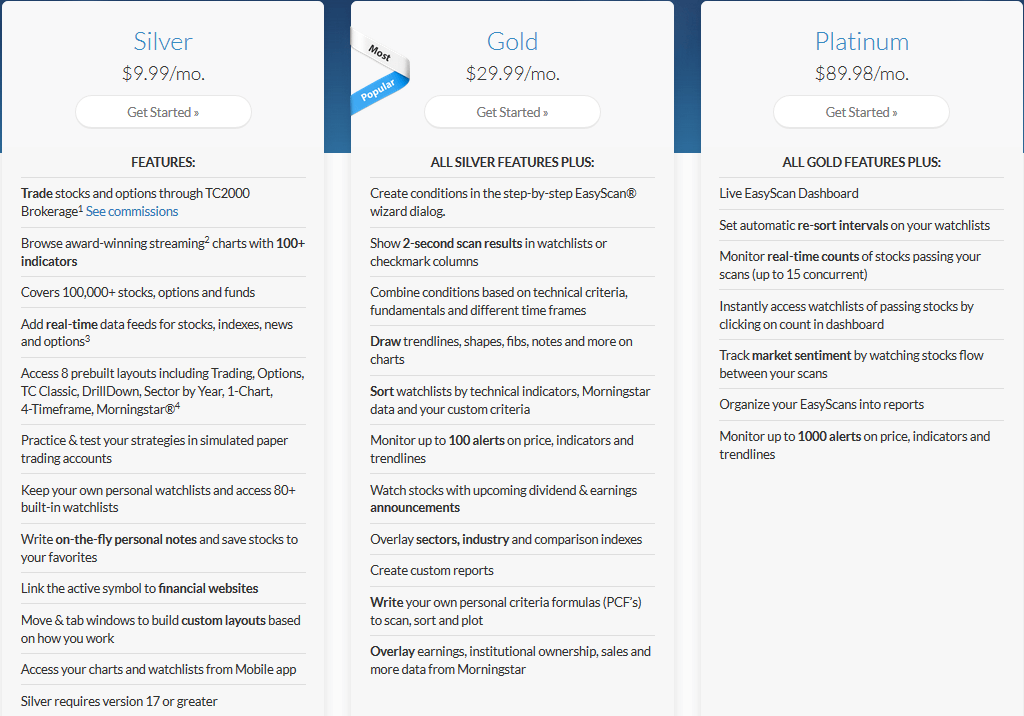 TC2000 costs
TC2000 Review Summary
Worden Brothers Inc. provide their clients a self-explanatory charting software tool. TC2000 is suitable for day traders and investors with a tight budget having the main focus on a rock solid charting tool and the intention to trade stocks and options.
The pricing is fair, especially with the "Silver" and "Gold" plans being cost efficient. In a perfect world, a free trial would be available. But in reality, a free trial is not necessary.
Why?
Because TC2000 has a great 30-Day-Money-Back Guarantee (details can be found here: http://www.tc2000.com/terms-of-use (chapter 1).
Furthermore, yearly subscribers get 2 months for free (10 months paid + 2 months free). Personally, I would never subscribe to a new service with a yearly plan. But for investors who are confident they want this tool for the next year, this is a great bargain for them.
The major benefit for beginners is the integrated paper trading account. Investors can practice day in and day out without risk. Please note that you need a real time market data subscription to make the simulated trading as realistic as possible.

Using the TC2000 Silver package ($9.99/mo.), along with the minimum data feed subscription ($14.99/mo.), is an affordable package worth investing in for beginners.

Remember, it is better to invest $24.98/mo. realizing after one month, that trading is not right for you than to trade live from the beginning and lose all your money.
Another great TC2000 benefit is the integrated trading module. With the trading module it is easy to trade right from the charts or with the integrated order ticket system: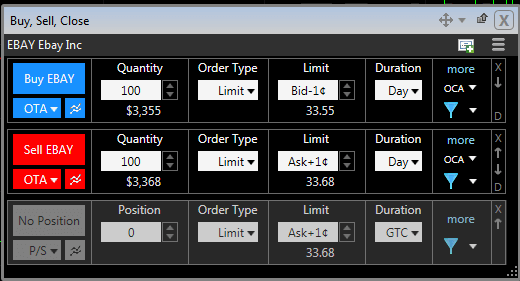 TC2000 costs
Investors looking for a high performance charting tool with basic drawing tools and a fair price tag should definitely try TC2000.
If a user is not satisfied, they can make use of the 30-Day-Money-Back- Guarantee (applicable for new users, inactive users for more than 1 year, and limited to 1 household per year).
What is good and what could be better?
Pros:
Cost efficient pricing structure
Fast software components
Browser & application based tool
Free paper trading module
Integrated order system (e.g. deal through chart)
30-day money back guarantee
Great documentation on TC2000 help site
Neutral:
Additional monthly data feed for real time markets (industry standard)
Cons:
Browser based version doesn't work with Firefox and Google Chrome
Parallels Desktop for Mac needed to run on Apple devices
Coding knowledge needed to create custom market scans
Automated trading not possible at the moment
Transparency:
This TC2000 is completely, independently written. I did not receive any money from Worden Brothers, Inc. and TC2000 Brokerage, Inc. for writing this review. The TC2000 review reflects my personal opinion about this charting software tool.
---
OVERALL RATING: